Theory Training For Learner Drivers
If you wish to purchase a very good resource for helping to pass your Theory and Practical Driving tests I would definitely recommend the following software package:
Driving Test Complete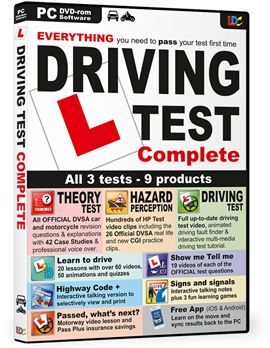 New 2013 version with FREE App and FREE driving lesson. The UKs best Driving and Theory Test software product for car drivers and motorcycle riders. Professional voice over throughout - ONLY £9.99.
Driving Test Complete is easily the most comprehensive PC software of its kind. No other product offers 4 different ways to learn the answers to the Official Theory Test questions (including via the mobile) thus making revision quick and easy and no other product offers such a wide selection of hazard clips to practice on. Indeed it is easy to pay twice as much for half of what this product offers. Whenever this product is reviewed against the other top products in the market place it always comes out on top - So if you want to give yourself the best possible chance of passing first time you need look no further. Plus it contains everything you need know to learn to drive and to pass the driving test as well.
1. THEORY TEST (Car and Bike)
Contains all 1265 Official DSA Theory Test revision questions, answers and explanations (GB and NI) for car drivers and motorcycle riders with professional voice over throughout.
3 Study and practice quiz learning programmes for car drivers and 1 for motorcycle riders.

Learn the knowledge and test your understanding using each of the Official questions, step by step, in the same order as the information is presented in the Highway Code. Alternatively the information can be presented to you in a different sequence so you can tie the study in with the 14 DSA Categories or to help you combine your theory test preparation with your first 12 driving lessons - the choice is yours.

Case study learning programme with a case study for each of the 14 DSA Categories. A total of 42 case studies are provided if you also include those that appear in the Mock Theory Tests (i.e. 28 for car drivers and 14 for motorcycle riders).

14 pre-set or unlimited randomly generated Mock Theory Tests each specially designed to give a properly balanced set of Official questions together with a Case Study of 5 questions exactly like the real test. The learning programme sections are also automatically updated with the answers given. Thus you can learn by doing mock tests and/or by using the learning programmes the choice is yours. No other product provides such flexibility.
Unique Mock Theory Test review facility with question re-try option and pop-up hint information linking our Highway Code Plus and the DSA's Official answer explanations.
New Free Theory Test App

(iPhone, iPod touch and iPad)

to allow you to sync results between this PC software and our Free Theory Test App. Thus you can do a test on the App or the PC and pass the results backwards and forwards. The only product currently available in the UK with this feature.

New stretchable screen interface with multiple independent window facility to make the most of the Windows operating environment.
Learning on the move copy MP3 files, PDFs or download enhanced Podcasts of the Official DSA questions, Highway Code and lesson notes to a variety of mobile devices (e.g Phones, PDAs, MP3 players, Tablets etc).
2. HAZARD PERCEPTION TEST (Car, Bike, ADI, LGV and PCV
Over 400 test realistic Hazard Perception Test video clips all shot from outside of the car as on the real test (almost twice the number of our nearest competitor). Many Theory Test products and kits only contain a handful of HP test clips to practice on. Most people who fail the Theory Test do so on the Hazard Perception part. This is where most other products are likely to let you down.
Includes the 10 Official DSA practice clips and introductory video in the first practice test making this test particularly realistic.
Hazard Perception driving lesson video from the LDC driving skills DVD.
3 Highly interactive multimedia tutorials and exercises all with professional voiceover throughout to explain how the test works, how to develop hazard perception skills and finally how to drive defensively. Includes 30 hazard video examples.
14 unique Hazard Type Tutorials with clip practice to help you understand how to identify and react to these common hazard types in the test or on the road for real.
28 unique highly realistic mock Hazard Perception Tests or unlimited randomly generated tests or tests made up of a specific hazard type. Nothing comes closer to the real thing.
Tests can contain 14 or 19 clips necessary for LGV and PCV HP Tests.
HP test and clip reviewer with re-take option so you can see exactly where you clicked, where points are scored and more importantly why.
Weakest clips review and retest graphically shows you which hazard clips and types you are weak on so you know where to focus your attention.
Highly accurate anti-cheat mechanism and multimedia explanation of what constitutes a developing hazard so nothing is left to chance.
DRIVING TEST(Car)
3. Highway Code plus
Interactive Highway Code plus supplementary notes for car drivers and motorcycle riders, all with professional voice over to view, search and print.
Learning on the move - extract MP3 files or download enhanced Podcasts of the above.
FREE LDC Highway Code eBook to search, extract or print.
FREE LDC Supplementary Notes eBook to search, extract or print containing the theory you need that isn't in the Highway Code.
4. Signs and signals
Comprehensive Tutorials about the signing system, signs, signals and road markings with professional voice over.
3 interactive sign games (Puzzle, Memory & Quick Fire) to make the learning fun.
5. Practical driving test
About the Driving Test video explains step by step what to expect.
Full driving test video game - watch a full practical driving test and see if you can find the faults committed. Includes new independent driving.
Interactive version of the driving test report to show you what the examiner is looking for, what constitutes a driving fault and the common faults committed.
Interactive highly illustrated training notes on how to fix any driving faults on the driving test report.
6. Show me Tell me
19 interactive mock test videos covering each OFFICIAL question and correct answer.
Show me tell me game.
7. Learn to drive
20 Highly interactive multimedia driving lessons incorporating over 50 interactive animated exercises, video tutorials, illustrations and quizzes.
8. Passed – What's next?
Pass plus driving lesson video and notes
Motorway driving lesson video and notes
2 young 2 die produced by Brake - the road safety experts.
9. New Free Theory Test App
9 PRODUCTS IN ONE
Just click on the Features tab below to see what each of the 8 programs offer. The product is also sold, and repackaged by GSP/Avanquest and WHSmith as the Driving Test All-in-one and the Theory Test Complete respectively.
Plus FREE DRIVING LESSON OFFER - Worth up to £28
Buy this product and book a free driving lesson from your nearest participating LDC driving instructor. Click here for full details.
Awarded Best Buy by Auto Express
The only PC software for learner drivers awarded 5 stars. When Auto Express last reviewed the top 10 training aids for learner drivers in the UK Driving Test Complete came out as the number 1 software product. Driving Test Success - All Tests from Focus received 4 stars with the AA, BSM and the DSA Official product only receiving 3 stars.
The product also offers professional voice over throughout. You only have to look at the features of this product to fully appreciate why this is the number one product of its kind in the UK.Visually stunning, technically brilliant.
Nothing in the market currently compares to the quality or the quantity of the Driving Test Complete product. It is easily the most complete and comprehensive software of its kind. Indeed it is easy to pay twice as much for half of what this product offers. So if you want to give yourself the best possible chance of passing the Theory, Hazard Perception and practical Driving Test first time as well as equipping you for a lifetime of safe driving then buy Driving Test Complete and put yourself in the driving seat today.
Free postage and packing
When you buy online postage and packing is Free and delivery will normally be next day provided you order before 4.30 pm (excludes orders made on Saturday, Sunday or Bank holidays). Buy online with confidence ,all credit/debit card purchases are handled bySage Pay, one of the most trusted and secure e-commerce providers in the UK. LDC do not store your card details. Alternatively, you can use PayPal, Google Checkout or contact us on our freephone number 0800 400 777.
Product Code: DTC001
Price: £9.99